"Leaning on the Arc:
A Personal History of Criminal Defense"
In 2016, Mr. Schwartzbach's memoir entitled, "Leaning on the Arc: A Personal History of Criminal Defense," was published by Ankerwycke, the publishing arm of the American Bar Association.
Book Details His Defense of the Famous, the Infamous and the Penniless During His 47 Year Career
Actor and writer Peter Coyote has written the following about Mr. Schwartzbach and his book:
"Gerry Schwartzbach's fascinating book is not only packed with great tales of injustice subverted by intelligence and passion, but it reminds us how the litany of prosecutorial injustices we read about daily, can be overthrown by the old industrial-age values of diligence, deep thought, and a burning commitment to justice. Though many of the cases in this book are about the famous, I met him when he was defending a penniless and unknown close friend of mine. I know a stand-up man when I see one, and you should read this book to gain an introduction."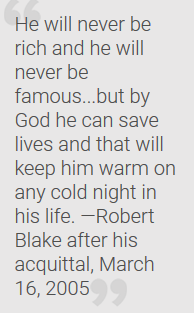 Robert Helman, Partner, Mayer Brown LLP and Adjunct Professor University of Chicago Law School has written:
"This is the fascinating memoir of an excellent, highly accomplished, practical and idealistic criminal defense lawyer, as committed to his clients, the proper functioning of the criminal justice system and the rule of law as any lawyer could be. The lesson to be drawn is that thoughtful and the most thorough preparation is the key ingredient for success in the practice of law, regardless of one's specialty."
Part memoir, part case history,
Mr. Schwartzbach demonstrates why and how true justice can only happen when we refuse to objectify the defendant—whether it be Hollywood legend Robert Blake, civil rights activist Stephen Bingham, or Dr. Hootan Roozrokh, the youngest organ transplant surgeon in the United States -- or any other person charged with a crime.
Mr. Schwartzbach often gave up his own comforts, including going into debt in order to provide quality representation to his clients, whether rich or poor. Among his many high profile cases for the less fortunate, including those wrongfully convicted, Mr. Schwartzbach argued before the California Supreme Court that all indigent defendants facing a potential death sentence were entitled to be represented by two attorneys. The court agreed, significantly increasing the quality of representation in all such California cases.
Mr. Schwartzbach, a trial lawyer for 47 years, is a San Francisco Bay area criminal defense attorney who is listed in The National Trial Lawyers Top 100 Trial Lawyers, Best Lawyers, Super Lawyers, The Martindale-Hubbell Bar Register of Preeminent Lawyers and the Marquis Publication's Who's Who in the World, Who's Who in America and Who's Who in American Law." He has received the Skip Glenn Award, presented for outstanding service in defense of a client by California Attorneys for Criminal Justice, a statewide organization of over 2,000 criminal defense attorneys. Mr. Schwartzbach has also been a recipient of the Outstanding Service Award by the Northern California Innocence Project. In addition, he was named Distinguished Advocate by the Advisory Board of the Heafey Center for Trial and Appellate Advocacy at Santa Clara University School of Law.
ABA Contact:
Dean Pappas, Manager, Product Marketing, American Bar Association. Mr. Papas' email address is This email address is being protected from spambots. You need JavaScript enabled to view it..